Healthcare Training Institute -

Quality Education since 1979
CE for Psychologist, Social Worker, Counselor, & MFT!!



Bibliography

|
Peer-Reviewed Journal Article References:
Barnett, J. E., & Kolmes, K. (2016). The practice of tele-mental health: Ethical, legal, and clinical issues for practitioners. Practice Innovations, 1(1), 53–66.

Barnhorst, A., & Kagawa, R. M. C. (2018). Access to firearms: When and how do mental health clients become prohibited from owning guns? Psychological Services, 15(4), 379–385.

Casey, T., Griffin, M. A., Flatau Harrison, H., & Neal, A. (2017). Safety climate and culture: Integrating psychological and systems perspectives. Journal of Occupational Health Psychology, 22(3), 341–353.

Cooper, S. E., & Neal, C. (2015). Consultants' use of telepractice: Practitioner survey, issues, and resources. Consulting Psychology Journal: Practice and Research, 67(2), 85–99.

Douglas, S., Jensen-Doss, A., Ordorica, C., & Comer, J. S. (2020). Strategies to enhance communication with telemental health measurement-based care (tMBC). Practice Innovations, 5(2), 143–149.

Glueckauf, R. L., Maheu, M. M., Drude, K. P., Wells, B. A., Wang, Y., Gustafson, D. J., & Nelson, E.-L. (2018). Survey of psychologists' telebehavioral health practices: Technology use, ethical issues, and training needs. Professional Psychology: Research and Practice, 49(3), 205–219.

Haberstroh, J., Gather, J., & Trachsel, M. (2018). Informed consent, capacity assessment, and advance planning in treatment and research [Editorial]. GeroPsych: The Journal of Gerontopsychology and Geriatric Psychiatry, 31(2), 55–56.

Kosinski, M., Matz, S. C., Gosling, S. D., Popov, V., & Stillwell, D. (2015). Facebook as a research tool for the social sciences: Opportunities, challenges, ethical considerations, and practical guidelines. American Psychologist, 70(6), 543–556.

Lustgarten, S. D. (2015). Emerging ethical threats to client privacy in cloud communication and data storage. Professional Psychology: Research and Practice, 46(3), 154–160.

Martin, J. N., Millán, F., & Campbell, L. F. (2020). Telepsychology practice: Primer and first steps. Practice Innovations, 5(2), 114–127.

Murphy, J. M., & Pomerantz, A. M. (2016). Informed consent: An adaptable question format for telepsychology. Professional Psychology: Research and Practice, 47(5), 330–339.

Nielsen, B. A. (2015). Confidentiality and electronic health records: Keeping up with advances in technology and expectations for access. Clinical Practice in Pediatric Psychology, 3(2), 175–178.

Ottaviani, C., & Vandone, D. (2015). Decision-making under uncertainty and demand for health insurance: A multidisciplinary study. Journal of Psychophysiology, 29(2), 80–85.

Prener, C., & Lincoln, A. K. (2015). Emergency medical services and "psych calls": Examining the work of urban EMS providers. American Journal of Orthopsychiatry, 85(6), 612–619.

Wu, I. H. C., Bathje, G. J., Kalibatseva, Z., Sung, D., Leong, F. T. L., & Collins-Eaglin, J. (2017). Stigma, mental health, and counseling service use: A person-centered approach to mental health stigma profiles. Psychological Services, 14(4), 490–501.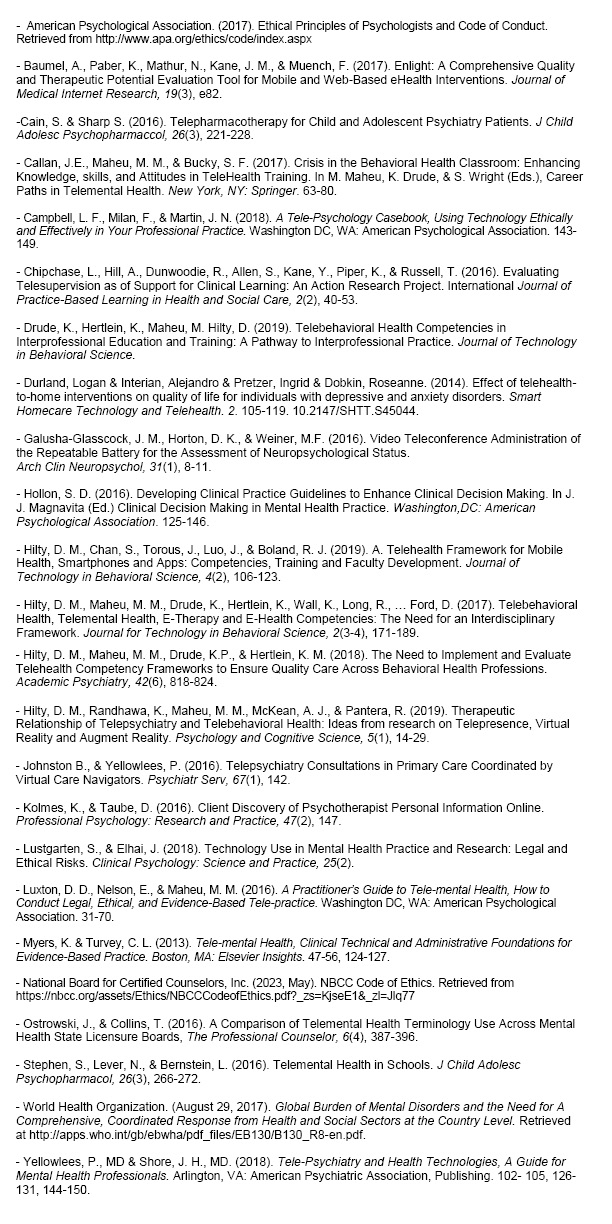 ---